California has lots of interesting sustainability-focused companies. For food, there are farmers' markets, Imperfect Produce (still using unreturnable cardboard boxes, unfortunately), and quite a few bulk stores, but it's harder to find household bath/hygiene and cleaning products. Rainbow Grocery in SF has some items, but it's far away.
So recently, I tried out Fillgood!! Fillgood is a zero-waste household goods delivery service. If you live in the SF Bay area, they deliver items to your door in a returnable bag and returnable containers (Ball jars). They even take the labels and tags back to reuse.
The only problem with this is how to return the bag. The expectation is that you'll buy from them again, and they'll pick up the bag and containers from the previous order. In my case, I'm not sure when or if I'll every buy from them again. Does that mean I'm stuck with this bag forever???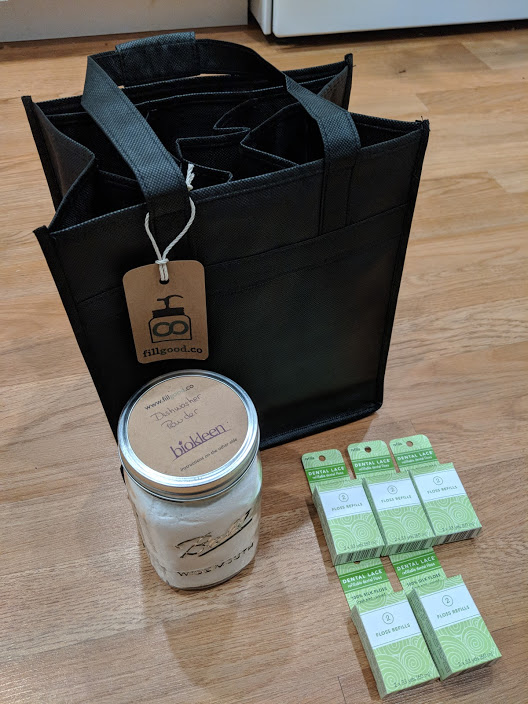 Fillgood carries a lot of useful products that normally can't be found in bulk. For example, laundry detergent, dishwashing powder, hand soap, makeup remover, lotion, tooth powder.
If you're not in the Bay Area, Refill Revolution is a similar company that sends bulk goods through the mail. They use returnable plastic pouches, which they then wash and reuse.
You purchase items online. Items that come in jars (liquids, powders, pastes) are called "refills" and come in their own containers. You don't need to purchase containers from Fillgood to get your products (although you can if you want additional storage).
If you are in the Bay Area, when selecting shipping you have the option of door delivery ($5) or local pickup ($2). If you selected door delivery, on a given day your items will be delivered to your door in a black bag.
Next time you order something from Fillgood, leave the bag and containers from last time by your door. Fillgood also collects dental waste for recycling, so you can leave that out in a bag as well. The delivery person will collect the bag and the dental waste, and leave your next purchase.
Pretty easy!