This is a popular Filipino dish. I've never had it before, but J has fond memories of it. We actually have a Filipino cookbook, The Filipino Cookbook by Miki Garcia, so we used that recipe.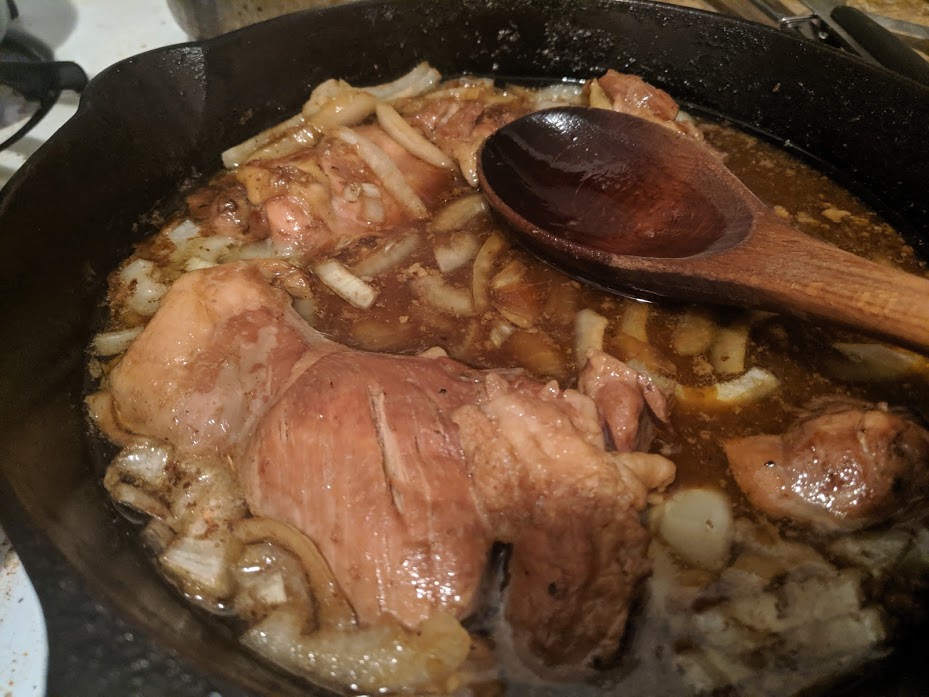 Recipe
2.5 lb chicken pieces (preferably skin-on)
Oil
3 cloves garlic, chopped
1 tsp pepper
1 Tbsp brown sugar
1 bay leaf
1 onion, sliced
1 cup cane, apple cider, or rice vinegar (or white vinegar diluted with water)
1 cup soy sauce
Sauté chicken and garlic in oil until browned. Add everything except the onion and simmer until chicken is done (about 30 min). Add the onion and cook 5 min more.
I would describe the original dish as "aggressively tart", to quote Cook's Illustrated, and the chicken overcooked and chalky, so this version makes some changes. Originally, you were supposed to marinate the chicken overnight, include lime juice, and cook the chicken longer.
I might even decrease the cooking time more. You're supposed to braise the chicken to make it tender, but we don't have much success at that in general. Maybe this is one for a slow cooker.