This is our take on this recipe, which is the author's take on a restaurant beef/tripe dish (apparently mushrooms have a similar texture). The final dish, with tofu included, is similar to mapo tofu.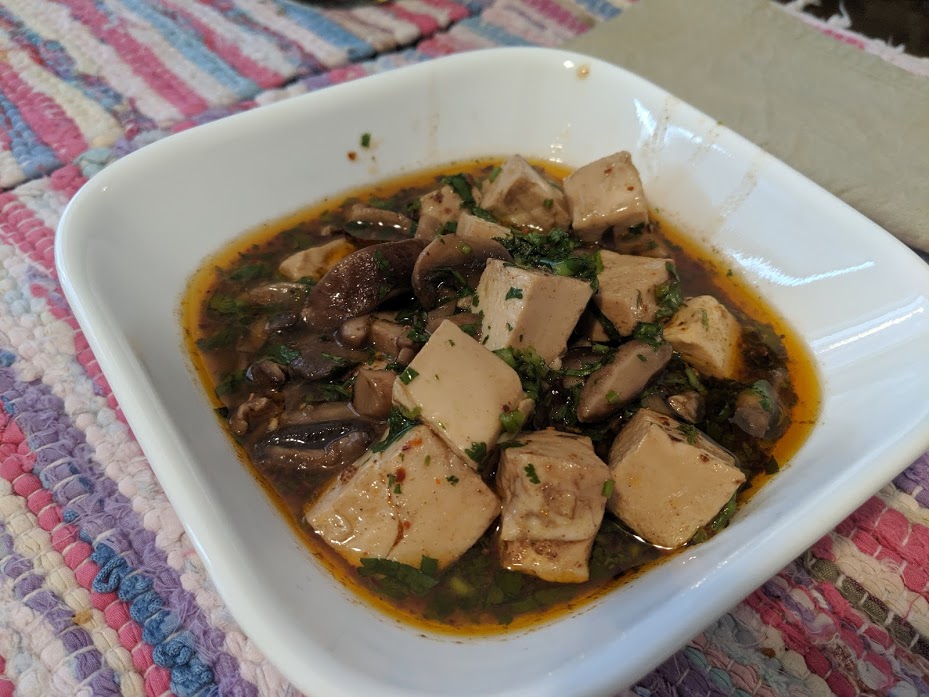 Recipe
Oil
Salt
1 lb mixed mushrooms
1 container soft tofu (optional; if using double all following amounts)
1/2 cup stock
1 tsp Chinese five spice powder (or 3/4 tsp fennel seeds and 1/2 tsp Sichuan peppercorns, toasted and ground into a powder + 1/4 tsp cinnamon)
1/4 cup shaoxing cooking wine (substitute with sake or sherry)
1/2 tsp sugar
2 tsp soy sauce
1/4 cup diced celery
2 Tbsp chili oil
1 tsp toasted sesame oil
1 handful peanuts, crushed
1 handful chopped cilantro
Cook mushrooms in oil. Salt lightly and add all ingredients tofu through soy sauce. Cook until sauce is reduced and thickened somewhat. Remove from heat and add garnishes (celery through cilantro). Eat hot or cold.