This turned out really well! Dare I say restaurant-quality?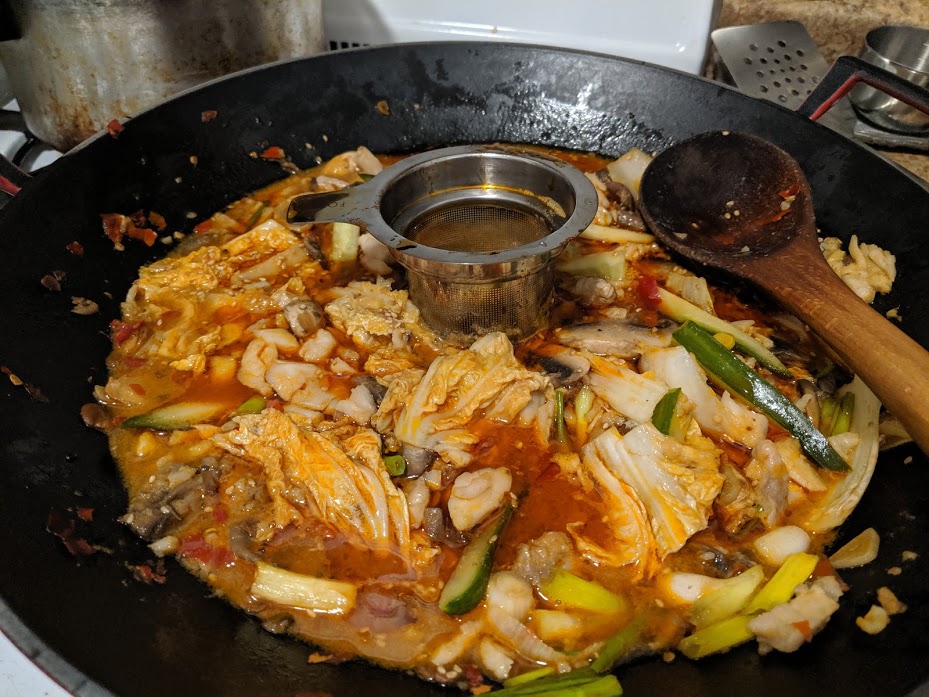 Fish and Marinade
1 lb fish fillets, thinly sliced (white fish, such as tilapia, catfish, cod, flounder, carp, etc)
0-3/4 tsp salt (less if your doubanjiang and douchi are really salty)
1/2 tsp ground pepper (white preferred)
1 Tbsp cornstarch or other refined cooking starch (potato, tapioca, arrowroot, etc)
1 Tbsp Shaoxing cooking wine (substitute with sake or sherry)
1 egg white (optional, not really sure what this is even supposed to do, we didn't use it)
Broth
~3 cups broth or water
Oil
1 inch ginger, sliced
5 cloves garlic
2 Tbsp doubanjiang
2 tsp fermented black beans (douchi)
3 whole star anise
1 tsp cardamom seeds
1 tsp Sichuan chili flakes (optional, depending on desired spiciness)
2 tsp soy sauce (optional, depending on desired saltiness)
Veggies (12-16 oz total)
Soybean sprouts
Napa cabbage, cut into squares or strips
Mushrooms
Cucumber, cut into sticks
Celery, cut into sticks
Whatever else you want!
Garnishes
2 Tbsp chili oil
1 Tbsp Sichuan peppercorn powder or oil concentrate
Green onion
Cilantro
Sesame seeds
Marinate fish for 30 min in cornstarch, cooking wine, salt, and pepper.
Fry the ginger, garlic, douchi, doubanjiang, star anise, cardamom, and chili flakes in oil for a minute or so. Add broth or water. Taste for saltiness before adding soy sauce.
Boil each veggie one at a time in broth. Once done, remove all of that veggie to the serving dish. Lastly, do the same with the fish, being careful to avoid breaking the slices.
Move fish and broth to serving dish. Top with garnishes.