During social isolation, J and I have been cooking a lot. We've been trying to make more unusual dishes, since we can't get cravings satisfied at restaurants or work.
J's been eating bagels for breakfast, but we forgot to get them last grocery order, so we made them! We have a ton of cream cheese and lox, so it was either this or cheesecake (that might still happen 🙂 We used the bagel recipe from ChefSteps.com (which seems to be a teach-you-to-cook website). (The bagel recipe got paywalled; this other site has a copy with more detail.)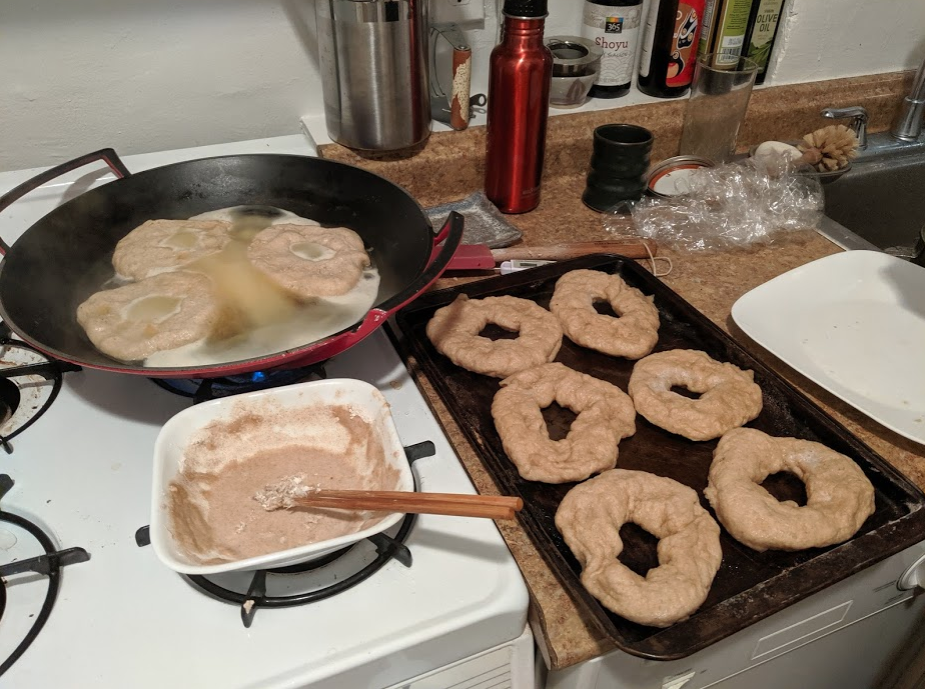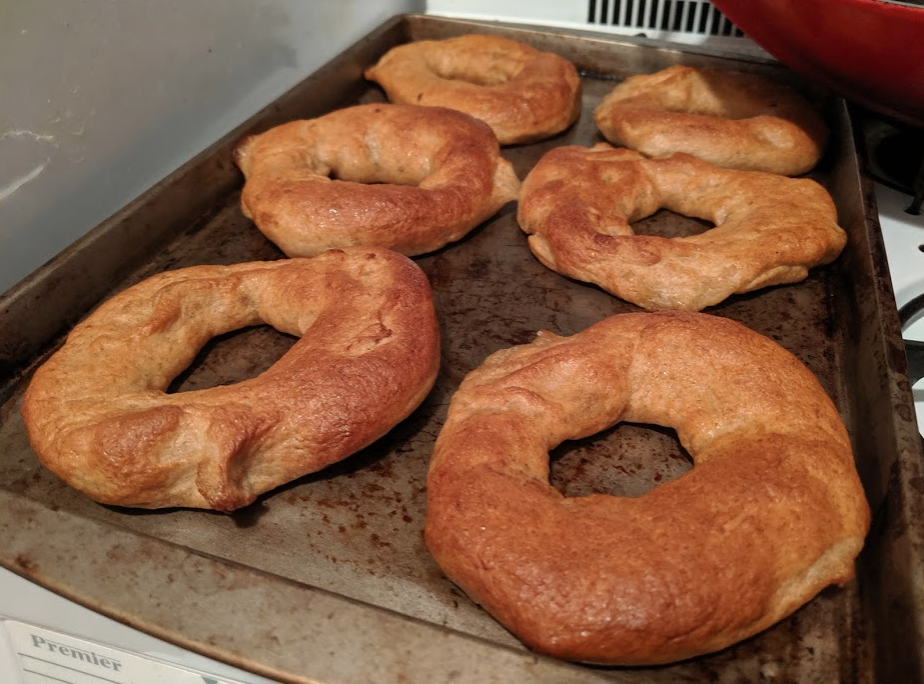 350 g water
250 g + 400 g bread flour
3 g yeast
25 g sugar
25 g malt powder
10 g salt
25 g malt syrup or honey
10 g baking soda
Make the sponge: Combine water, 250 g flour, and yeast. Let proof until doubled in size (about 2-3 hours).
Combine remaining flour, sugar, malt powder, and salt. Add the sponge. Knead until the dough is stretchy and smooth, and holds together. Divide into bagel-size pieces of dough (~65 g for 4″ bagels).
Form the dough portions into bagels. There are various methods. Proof for about half an hour. Cover and put in the fridge overnight (optional).
Boil some water with the malt syrup and baking soda. Boil each bagel for 60 sec on each side. Put toppings, if using, on bagels. Bake at 425°F for 14 min.
Improvements to the recipe:
Put flour or cornmeal on the bagel bottoms. They stick really badly!
Oil the tops before covering with plastic wrap. They stick moderately badly…
Try the rope + roll method of shaping.