Someone online said that no Bay Area boba establishment has turned them away for asking to use a non-disposable boba cup. That sounded amazing, so I implored sibling C (visiting) to attempt it for the first time. It was too nerve-wracking for me to try in untested waters.
When asked if it was okay to use a jar (wide-mouth quart jar in this case; pint jars wouldn't be big enough for a normal serving of milk tea), the cashier not only agreed, but did so immediately without any weird looks! Maybe she just saw us coming and prepared herself, or maybe it's common here! I will definitely do this at Teaspoon again 😀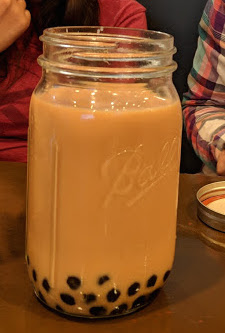 I usually use the provided plastic boba straws (or wrapped ones that ended up on the ground that no one else wants), but am thinking of buying or making a reusable one. J and I get boba a couple times a month with friends, so it would make sense.