So there's this trendy bakery in New York City that is known for huge, rich cookies (the crowd favorite is chocolate chip-walnut). The problem is that the line is really long and the cookies are expensive.
So, J and I have been making our own versions of these cookies! There are a lot of copycat recipes online. This is the result of combining a few of them. The Brown-Eyed Baker one was a major contributor, but doesn't have enough walnuts or chocolate chips in it and mysteriously calls for baking soda despite no acid in the other ingredients.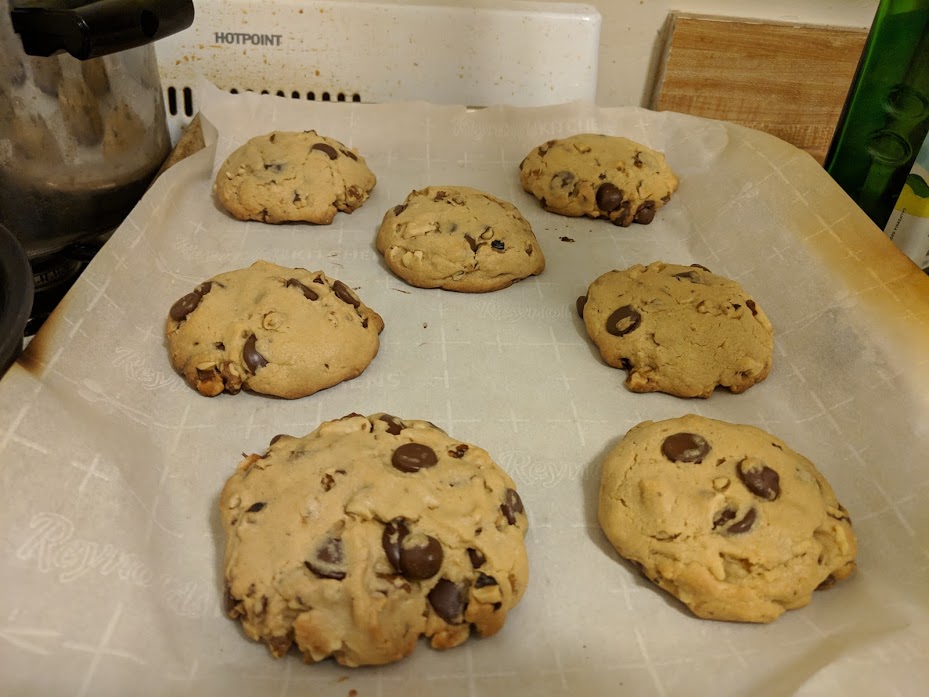 Chocolate chip walnut cookies
3 cups flour
1 tsp cornstarch (or other refined cooking starch)
1 tsp baking powder
1/4 tsp baking soda
3/4 tsp salt
1 cup butter
3/4-1 cup brown sugar
1/2 cup white sugar
2 eggs
1 tsp vanilla
2 cups chocolate chips
2 cups coarsely chopped walnuts
Cream butter and sugar. Add eggs and vanilla.
Mix the dry ingredients. Add to the butter-sugar mixture. Add the chocolate chips and walnuts.
Bake cookies 10 min at 375°F (small cookies will be done, large cookies will be gooey).
Substitutions
The sugar together with the chocolate chips can make the cookies too sweet. You might consider reducing the amount of sugar in subsequent batches.
But don't reduce the sugar if leaving out the chocolate chips.
Try leaving out the baking soda or powder. Another recipe we used only called for soda, which seems wrong.
Type of flour called for also varies by recipe. One reference called for all bread flour, and another half cake and half all-purpose.