I got a free baguette from somewhere a few months ago. It's been sitting in my freezer since then, desiccating, apparently. I got it out to make banh mi yesterday and discovered that it was rock hard. I would've given up on the whole idea except that I'd already bought all the other ingredients.
To attempt to rehydrate the bread, I… steamed it. It mostly worked. Soggy on the outside and still pretty hard on the inside = delicious, right? Fortunately, panfrying got rid of the sogginess.
Bread down, onto the hacked-together filling! The main components of banh mi are some protein (I used fried tofu and scrambled egg), cilantro, mayo, fish sauce, and marinated veggies. I had trouble with the fish sauce (don't have it) and the marinated vegetables (don't have vinegar), so I made some wild substitutions like usual.
Julienned carrots and radish are supposed to be marinated in a combination of rice vinegar, sugar, and salt. I didn't want to buy a whole container of vinegar (and it's not available in bulk) just as I'm about to move out, so my plan was to use lemon or lime juice in place of vinegar. Lime would be especially fitting – it's commonly used as a topping. But… the grocery store didn't have either 🙁 The closest alternative I could find was grapefruit. I still don't know if that was a good choice.
I added bonito flakes to the marinade to substitute for fish sauce.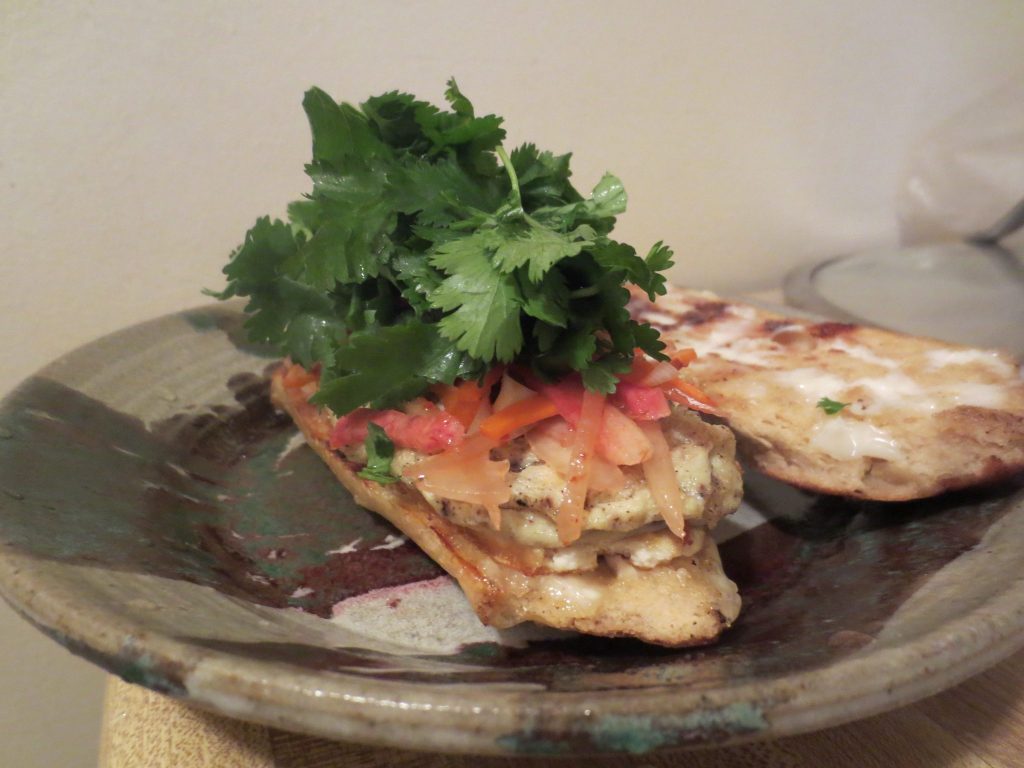 The sandwich was actually pretty good, considering. The vegetables only have the faintest hint of grapefruit-bitterness flavor… 😀