A lot of y'all probably know that I use handkerchiefs in place of (disposable) tissues. I find them very convenient and, since they're such a foreign concept to most people, I want to explain the ins and outs of their use and care!
What do you use hankies for?
I treat hankies as a cross between a tissue and a cloth napkin. I use them to blow my nose, and occasionally wipe my hands and mouth, but appropriate use varies by culture. For example, in Japan, it is rude to use your handkerchief to blow your nose (or to blow your nose in public at all); handkerchiefs are meant only for drying sweat or your hands. And in the US, handkerchiefs are just not used (except in hanky code by the gay and BDSM communities), so there is no particular etiquette I am aware of.
How many handkerchiefs do you need?
I carry one handkerchief in my pocket every day. I use it until it gets too dirty, then I switch it for a new one. Unless I'm sick, I usually use the same one for a week. I carry a couple backups in my backpack in case I suddenly get hit with allergies, or a friend needs a tissue.
I have about 20 hankies in my personal collection, but that's way more than I need for day-to-day use. If you're gonna switch to tissues for a really runny nose, 5-7 hankies should be fine for the rest of the time.
What do you do when you're sick?
I use hankies when I'm sick too! I've never needed more than my 20 hankies in a single day. If it looks like I'm going to run out, I wash some handkerchiefs by hand and let them dry overnight to use the next day.
How do you wash handkerchiefs?
You can wash hankies either by hand, or by machine in a mesh lingerie bag. I usually put mine in with the rest of my laundry. In either case, unfold each hankie and soak in water for a few hours before washing. This rehydrates dried mucus so that it can be washed off 🙂 Handkerchief fabric is very lightweight so they dry super fast. I always air dry them.
Where do you get hankies? What should they be made of?
My handkerchief collection is all from my maternal grandparents' estate. My grandparents had a huge number of handkerchiefs and bandanas. Apparently, they had grown up using handkerchiefs (during the Great Depression) and continued to do so until disposable tissues took hold.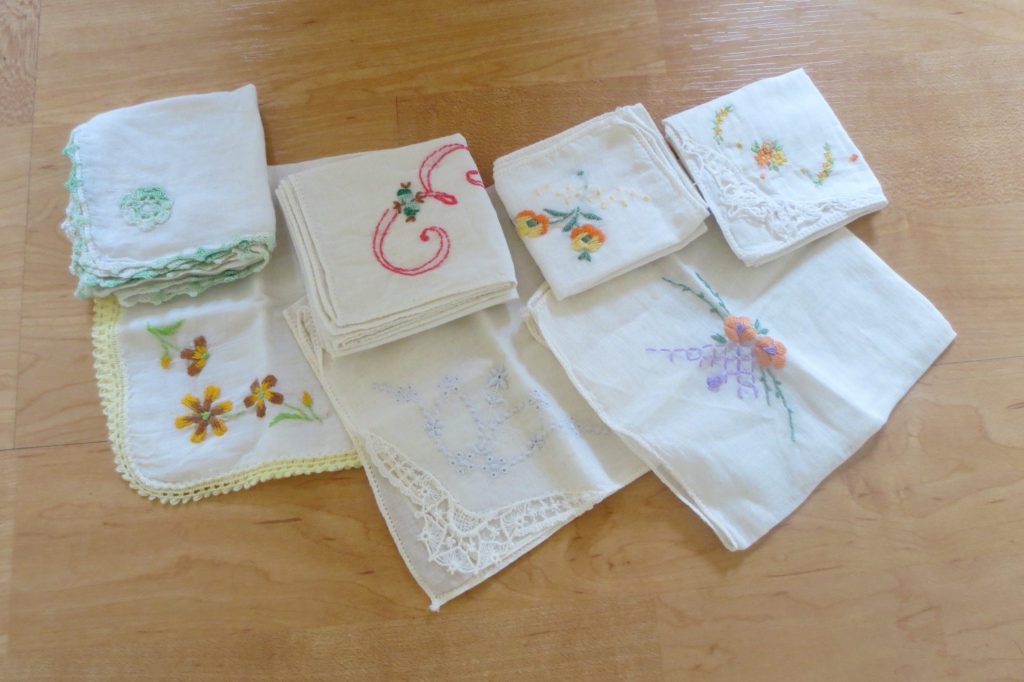 Because of the switch to tissues, there are lots of old hankies available at thrift stores, antique stores, creative reuse stores (I'd say this is your best bet), and on eBay. You can use thin woven fabric, like a bandana, or t-shirt material.
The fabric should be natural (cotton and linen are common) and not a satin weave – your snot will slide right off 🙂 (Pocket squares make poor handkerchiefs because they're usually made of glossy fabric.) A color or patten will help hide stains. If you're worried you'll look weird using a hankie, use white ones; they'll look just like tissues.
How do you fold handkerchiefs?
I fold mine into sixteenths (in half, in half hamburger-style, in half the same direction, then in half hamburger-style again) to make a sort of "book".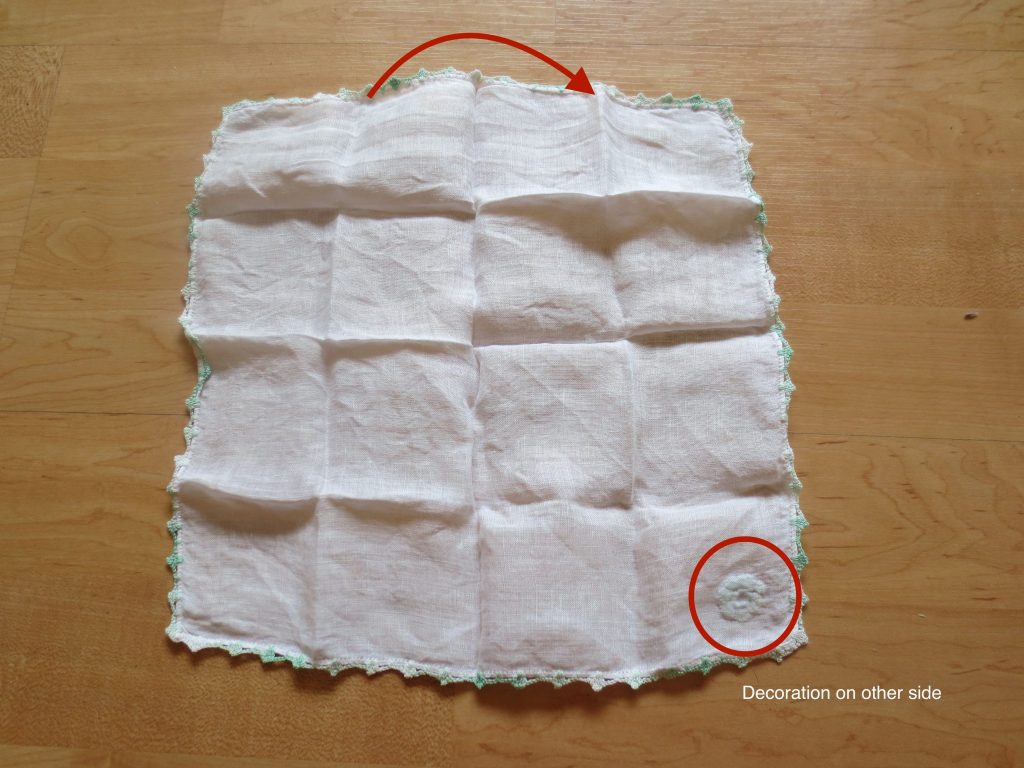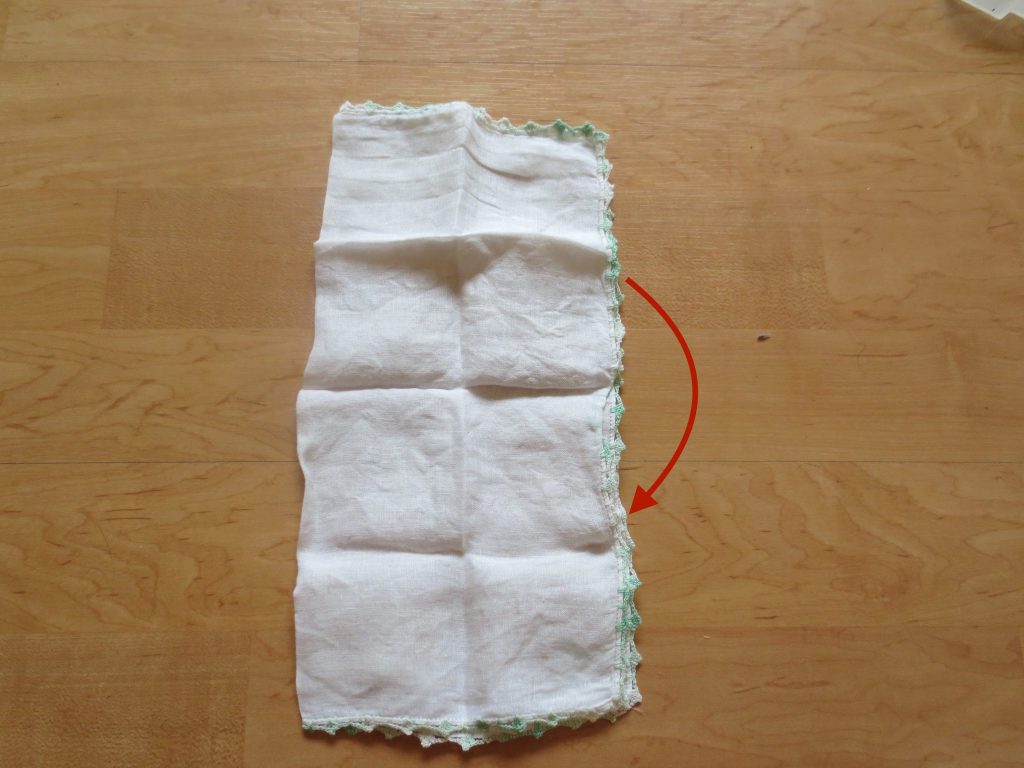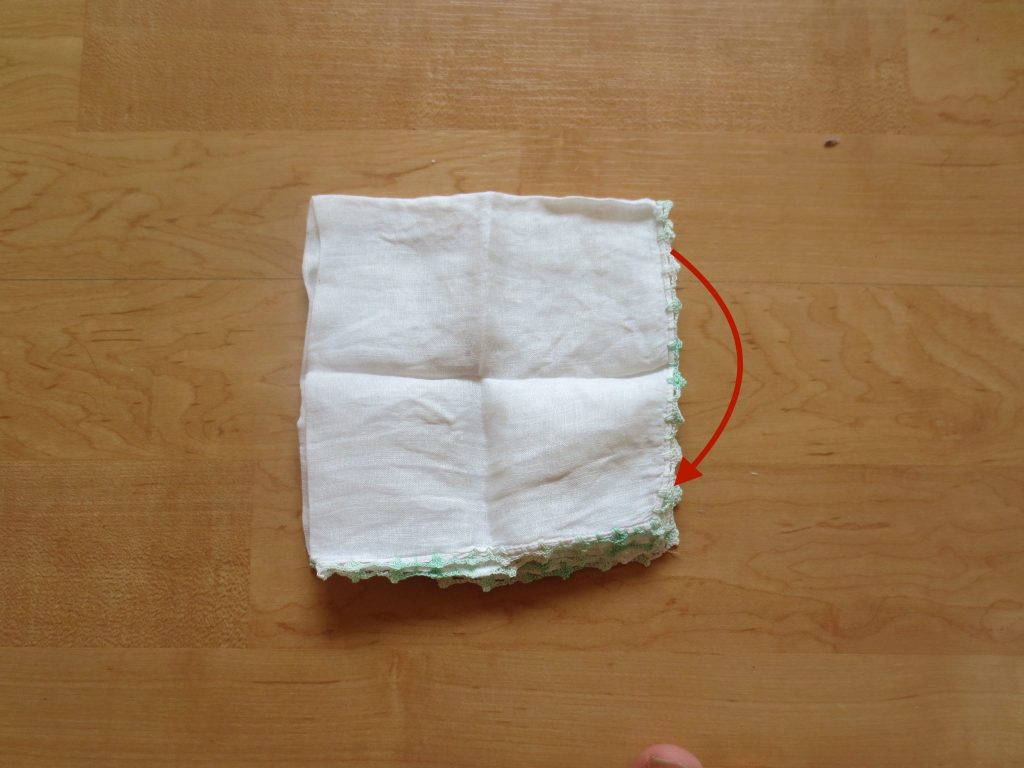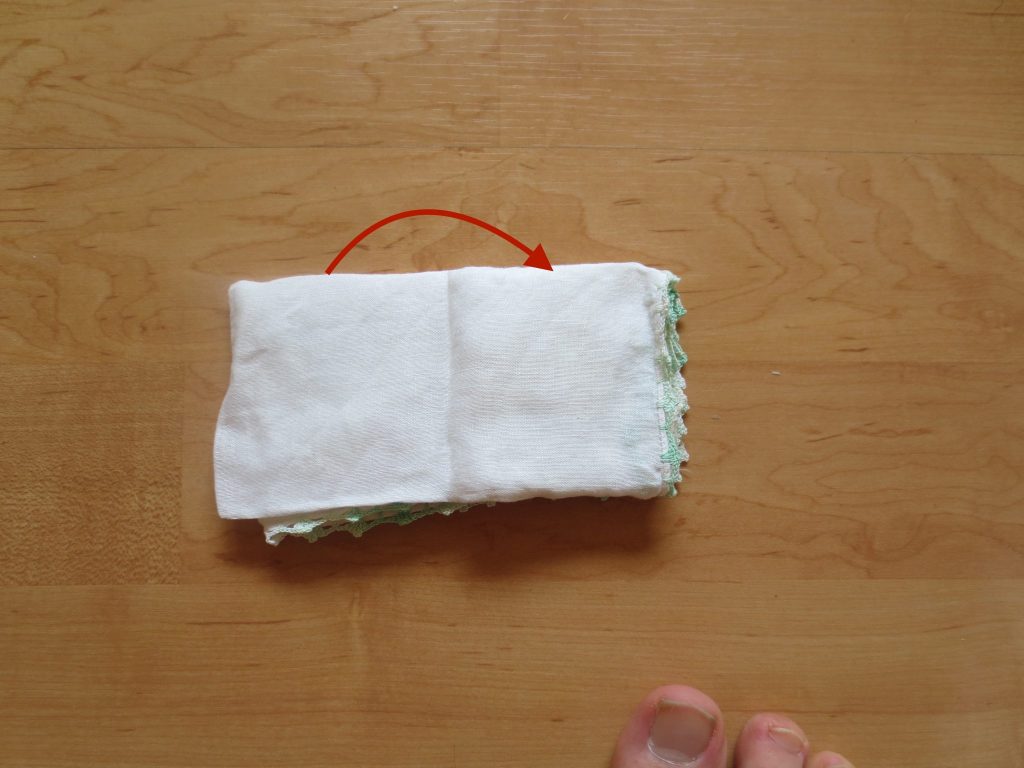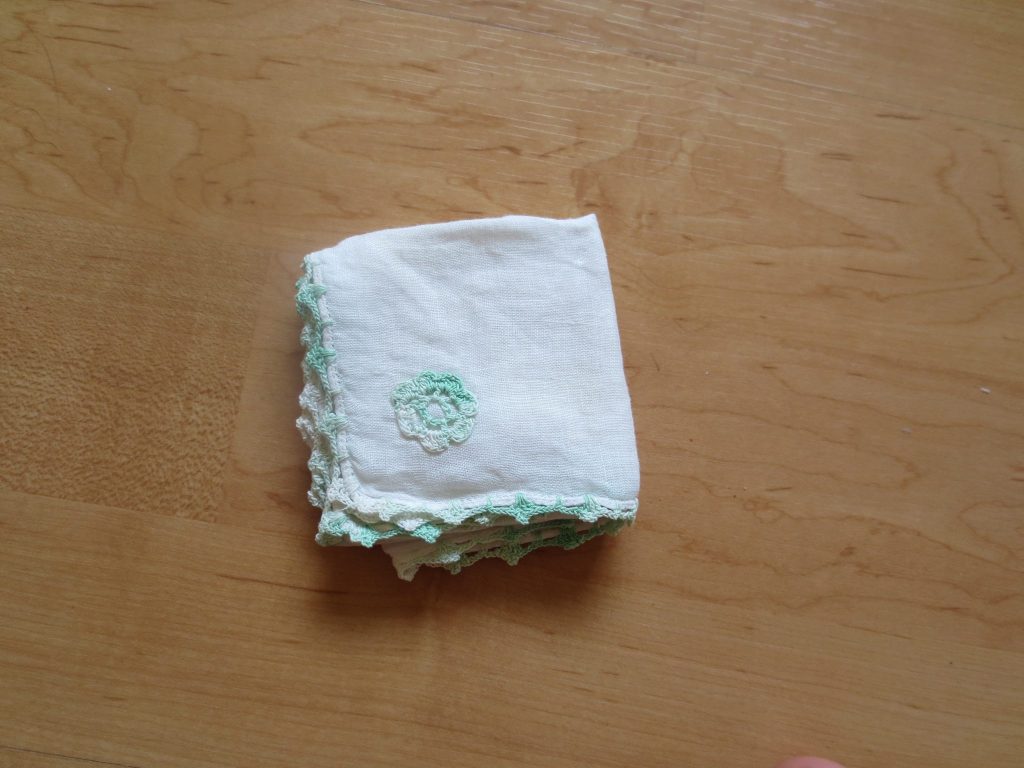 Each time I use the hankie, I use a "page" of the book so that I have a new surface available. I use the main fold of the hankie booklet for wiping my mouth so that I can keep food and mucus separate. To keep the outside of the hankie clean, don't use its "cover".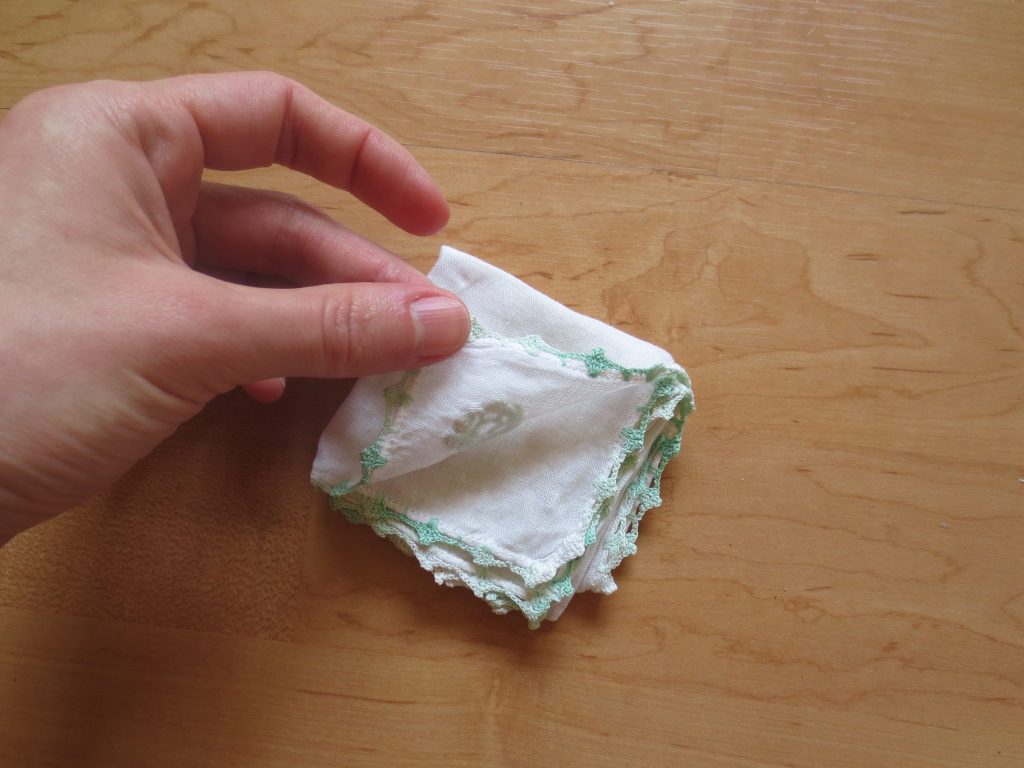 A lot of people think hankies are gross, but you'll be fine if you're used to washing other cloth items that come in contact with bodily fluids, like cloth menstrual pads, cloth napkins, even underwear. If it really bothers you, you can also use each hanky just once before washing (but then you'll need a lot).
Good luck!